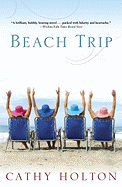 Fiction, Paperback
"Break out the tissues, sunblock, and margarita mix as four friends reunite after twenty-three years for a beach party in [this] feast of Southern friendship. . . . [Cathy] Holton refreshes the action with winning humor."--Publishers Weekly

Mel, Sara, Annie, and Lola have traveled diverse paths since their years together at a small Southern liberal arts college during the early 1980s. Mel, a mystery writer living in New York, is grappling with the aftermath of two failed marriages and a stalled writing career. Sara, an Atlanta attorney, struggles with her own slowly unraveling marriage. Annie, a successful Nashville businesswoman married to her childhood sweetheart, can't seem to leave behind the regrets of her youth. And sweet-tempered Lola whiles away her hours--and her husband's money--on little pills that keep her happy.
Now the friends, all in their forties, converge on Lola's lavish North Carolina beach house in an attempt to relive the carefree days of their college years. But as the week wears on and each woman's hidden story is gradually revealed, these four friends learn that they must inevitably confront their shared past, and a secret that threatens to change their bond, and their lives, forever.