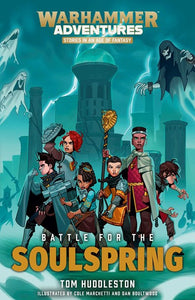 The sixth book in the Warped Galaxies series. An exciting series of fantasy for middle-grade reeaders from Black Library. Epic heroes, mighty armies and terrifying monsters clash against the backdrop of magical landscapes.
The city of Lifestone is under siege!
A dark army under the command of the undead sorceress Ashnakh swarms outside the city walls, awaiting her order to attack.
The only ones who can stop her are six brave children, each of them marked with a symbol of the Mortal Realms, each sworn to defend Life against the forces of Death.
Now, Kiri and her friends must learn the truth about Lifestone, and why they bear these peculiar marks. They must call on strange and untrustworthy allies to help them in their hour of need. And finally, they must join together to defend the mysterious Soulspring, if they are to defeat Ashnakh once and for all.