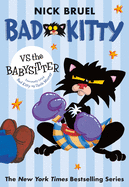 In the

 

New York Times

 

bestselling Bad Kitty series from writer and illustrator Nick Bruel, prepare for a battle royale as Uncle Murray steps into the role of petsitter in

 

Bad Kitty vs the Babysitter.


Kitty's owners are taking a week off and leaving Kitty and Puppy at home. So who's going to watch them? Good ol' Uncle Murray, star of the Fun Facts feature of previous Kitty books--the guy you thought knew everything about cats. Think again! It isn't long before Uncle Murray is driven to near madness by shenanigans of epic proportions.