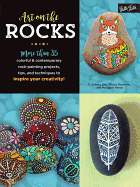 Craft & Hobbies, Paperback
Grab your colors, head outside, and start painting beautiful works of art on stones. Art on the Rocks, an all-inclusive instruction book, is packed with creative ideas, step-by-step projects, and endless inspiration for creating masterpieces that are truly one with nature.

Art on the Rocks offers a colorful, modern approach to rock painting. After an initial overview of how to gather and prepare your rocks, as well as a basic review of the tools and materials necessary for each project, three talented rock-painting artists demonstrate a range of contemporary designs for you to experiment with.

With the patterns, animals, mandalas, and loads of other designs featured inside, you will never be without inspiration for what to paint on your next stone. Each project includes easy-to-follow instructions and invites creativity and originality, encouraging you to sit back, relax, and develop your own unique Art on the Rocks.