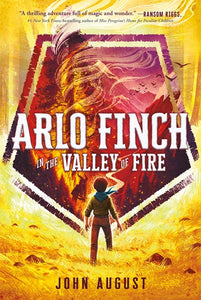 Arlo Finch in the Valley of Fire is the first book in a spellbinding middle grade fantasy adventure series by screenwriter John August.

"A thrilling adventure full of magic and wonder. John August is a master storyteller." --Ransom Riggs, #1 New York Times-bestselling author of Miss Peregrine's Home for Peculiar Children

Some trails lead to magic. Some lead to danger.
As Arlo looked around, the walls of his room began to vanish, revealing a moonlit forest. Only his bed remained, and the frame of his window, through which he saw the girl. The world on her side of the glass was sparkling with silver and gold, like a palace made of autumn leaves.
She looked off to her right. Someone was coming. Her words came in an urgent whisper: If I can see you, they can see you . . . Be careful, Arlo Finch."
Arlo Finch is a newcomer to Pine Mountain, Colorado, a tiny town of mystery and magic, but he's already attracted the attention of dark and ancient forces. At first he thinks these increasingly strange and frightening occurrences are just part of being in Rangers, the mountain scouting troop where he learns how to harness the wild magic seeping in from the mysterious Long Woods.
But soon Arlo finds himself at the center of a dangerous adventure, where he faces obstacles that test the foundations of the Ranger's Vow: Loyalty, Bravery, Kindness, and Truth.
Praise for Arlo Finch in the Valley of Fire:
"Much like other popular series such as 'Percy Jackson, ' [this is] an exciting fantasy novel grounded in reality with a strong emphasis on friendships and great characters. This new series will appeal to fans of mystery and adventure as well as reluctant readers." --School Library Journal