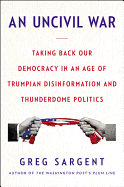 Political Science, Hardcover
In An Uncivil War, the Washington Post's Greg Sargent sounds an urgent alarm about the deeper roots of our democratic backsliding--and how we can begin to turn things around between now and 2020.
American democracy is facing a crisis as fraught as we've seen in decades. Donald Trump's presidency has raised the specter of authoritarian rule. Extreme polarization and the scorched-earth war between the parties drags on with no end in sight. The recent Kavanaugh confirmation hearings are only the latest example of this, and of the GOP's continued ability to steamroll the Democrats and their supporters.
At the heart of this dangerous moment is a paradox: It took a figure as uniquely menacing as Trump to rivet the nation's attention on the fragility of our democracy. Yet the causes of our dysfunction are long-running--they predate Trump, helped facilitate his rise, and, distressingly, will outlast his presidency.
In An Uncivil War, Sargent reveals why we've fallen into the ditch--and how to get out of it. Drawing upon years of research and reporting, he exposes the unparalleled sophistication and ambition of GOP tactics, including computer-generated gerrymandering, underhanded voter suppression, and ever-escalating legislative hardball. We are also plagued by other brutal, seemingly intractable problems such as dismal turnout and powerful, built-in temptations to tilt the political playing field with unscrupulous partisan trickery. All of this has been accompanied by foreign-government intervention and an unprecedented level of political disinformation that threatens to undermine the very possibility of shared agreement on facts and poses profound new challenges to the media's ability to inform the citizenry. Yet the Republican Party is only part of the problem. As Sargent provocatively reveals, Democrats share culpability for helping to accelerate this slide.
But our plight is far from hopeless, and Sargent offers a series of doable prescriptions for saving our democracy, including a shift of focus toward state legislatures, creative voter registration policies, innovative approaches to fairer districting, and a new sense of purpose. The result is a book that could not be more essential as we head toward the elections that most matter.