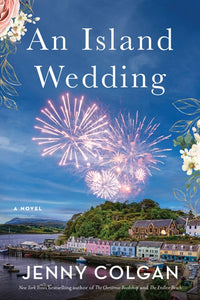 New York Times bestselling author Jenny Colgan brings us a delightful summer novel that will sweep you away to the remote Scottish island of Mure, where two very different weddings are about to take place…
On the little Scottish island of Mure—halfway between Scotland and Norway—Flora MacKenzie and her fiancé Joel are planning the smallest of "sweetheart weddings," a high summer celebration surrounded only by those dearest to them.
Not everyone on the island is happy about being excluded, though. The temperature rises even further when beautiful Olivia MacDonald—who left Mure ten years ago for bigger and brighter things—returns with a wedding planner in tow. Her fiancé has oodles of family money, and Olivia is determined to throw the biggest, most extravagant, most Instagrammable wedding possible. And she wants to do it at Flora's hotel, the same weekend as Flora's carefully planned micro-wedding. 
As the summer solstice approaches, can Flora handle everyone else's Happy Every Afters—and still get her own?