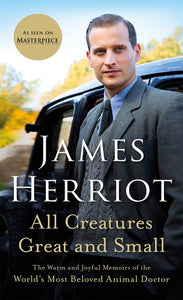 A tie-in to the upcoming PBS Masterpiece series and Christmas special.
The first volume in the multimillion copy bestselling series.

Delve into the magical, unforgettable world of James Herriot, the world's most beloved veterinarian, and his menagerie of heartwarming, funny, and tragic animal patients.

For fifty years, generations of readers have flocked to Herriot's marvelous tales, deep love of life, and extraordinary storytelling abilities. For decades, Herriot roamed the remote, beautiful Yorkshire Dales, treating every patient that came his way from smallest to largest, and observing animals and humans alike with his keen, loving eye.

In All Creatures Great and Small, we meet the young Herriot as he takes up his calling and discovers that the realities of veterinary practice in rural Yorkshire are very different from the sterile setting of veterinary school.

James Herriot's memoirs have sold 80 million copies wordwide, and continue to delight and entertain readers of all ages.