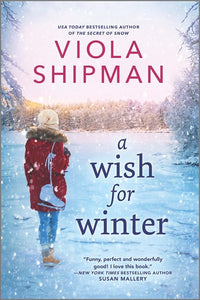 With echoes of Mary Kay Andrews' The Santa Suit and the classic Hollywood love stories Serendipity and An Affair to Remember, Viola Shipman's latest winter-set charmer following the USA TODAY bestseller The Secret of Snow is sure to tug on heartstrings and delight readers who love books about books, missed connections, and the magic of Christmas.
While visiting friends in Chicago, a bookseller from a small Michigan resort town takes part in the annual "Santa Run" 5k charity event. At the starting line, she meets a man and they share an immediate attraction and connection...and as improbable as it seems, believes he could possibly be The One. They arrange to meet at a bar after the race -- but she shows up, he doesn't. Unbeknownst to her, he has slipped on ice during the race and is taken to the hospital.The kicker? She has no idea what his name is or what he looks like since he was wearing a Santa costume when they met at the run. When later she reads in the local paper of a man who was injured at the event, she's convinced it was him. She returns home convinced she has to find him and, without her knowing, her grandparents start "The Single Kringle" -- a social media post to find the mystery man that goes viral.
Woven through with the grandparents' own love story--they met under very similar circumstances (Grampa was a department store Santa called to serve in the Korean War, and his future wife searched to find him), Shipman once again creates magic with a past-present story line that reinforces the importance of family and the power of community.