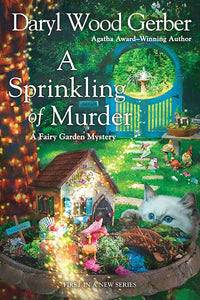 Fairy garden store owner Courtney Kelly believes in inviting magic into your life. But when uninvited trouble enters her shop, she'll need more than a sprinkling of her imagination to solve a murder . . .
 
Since childhood, Courtney has loved fairies. After her mother died when Courtney was ten, she lost touch with that feeling of magic. A year ago, at age twenty-nine, she rediscovered it when she left her father's landscaping business to spread her wings and start a fairy garden business and teashop in beautiful Carmel, California. At Open Your Imagination, she teaches garden design and sells everything from fairy figurines to tinkling wind chimes. Now she's starting a book club tea.
 
But the light of the magical world she's created inside her shop is darkened one night when she discovers neighboring dog-grooming business owner Mick Watkins dead beside her patio fountain. To make matters worse, the police suspect Courtney of the crime. To clear her name and find the real killer, Courtney will have to wing it. But she's about to get a little help from an unexpected source . . .