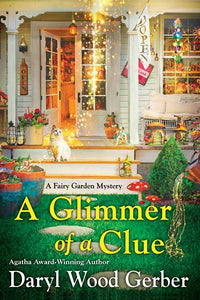 From Agatha Award-winning author Daryl Wood Gerber, the second in an enchantingly whimsical series featuring Courtney Kelly, the owner of a fairy-gardening and tea shop in Carmel, California. It's a special place brimming with good vibes, lush greenery, miniature fairy accessories, and soothing fountains; the perfect venue for book club teas and home to a cat named Pixie. But in Carmel-by-the-Sea, things aren't all sweetness and fairy lights...

When Courtney's friend Wanda gets into a ponytail-pulling wrestling match in public with a nasty local art critic, Courtney stops the fight with the help of a garden hose. But Lana Lamar has a talent for escalating things and creating tension, which she succeeds in doing by threatening a lawsuit, getting into yet another scuffle--in the midst of an elegant fundraiser, no less--and lobbing insults around like pickleballs.

Next thing Courtney knows, Lana is on the floor, stabbed with a decorative letter opener from one of Courtney's fairy gardens, and Wanda is standing by asking "What have I done?" But the answer may not be as obvious as it seems, since Wanda is prone to sleepwalking and appears to be in a daze. Could she have risen from her nap and committed murder while unconscious? Or is the guilty party someone else Lana's ticked off, like her long-suffering husband? To find out, Courtney will have to dig up some dirt...