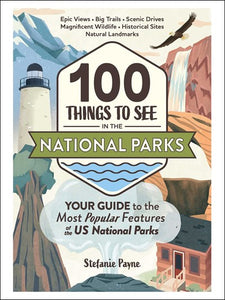 Explore all the most interesting, important, and awe-inspiring sites in the US National Parks with this guide featuring 100 must-see historical sites, natural landmarks, and other points of interest.
The US National Parks are full of amazing things to see from the incredible landscapes at the Grand Canyon to historical monuments like the Gateway Arch. But it can be easy to miss out on the best the parks have to offer if you don't know where to look or what to look for.
100 Things to See in the National Parks
gives you a clear guide through the most interesting, unique, and awe-inspiring things at each of the 63 national parks throughout the United States including:
-The highest peak in North America at the Denali National Park in Alaska
-The only place in the US where mail is delivered by mule at the Grand Canyon National Park in Arizona
-The largest living tree in the world at Sequoia National Park in California
-And much more!
Each point of interest has its own entry, where you'll find background information on its appearance and history, as well as easy-to-follow instructions on how to find it. For national park fans of all ages and interest, this guide will help you explore the US National Parks like you've never experienced them before.