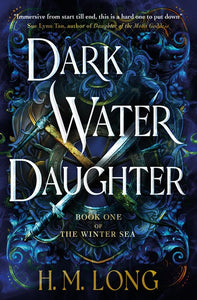 A stormsinger and pirate hunter join forces against a deathless pirate lord in this swashbuckling Jacobean adventure on the high-seas.

Launching the Winter Sea series, full of magic, betrayal, redemption and fearsome women, for readers of Adrienne Young, R. J. Barker and Naomi Novik.
Mary Firth is a Stormsinger: a woman whose voice can still hurricanes and shatter armadas. Faced with servitude to pirate lord Silvanus Lirr, Mary offers her skills to his arch-rival in exchange for protection - and, more importantly, his help sending Lirr to a watery grave. But her new ally has a vendetta of his own, and Mary's dreams are dark and full of ghistings, spectral creatures who inhabit the ancient forests of her homeland and the figureheads of ships.
Samuel Rosser is a disgraced naval officer serving aboard The Hart, an infamous privateer commissioned to bring Lirr to justice. He will stop at nothing to capture Lirr, restore his good name and reclaim the only thing that stands between himself and madness: a talisman stolen by Mary.
Finally, driven into the eternal ice at the limits of their world, Mary and Samuel must choose their loyalties and battle forces older and more powerful than the pirates who would make them slaves.
Come sail the Winter Sea, for action-packed, high-stakes adventures, rich characterisation and epic plots full of intrigue and betrayal.