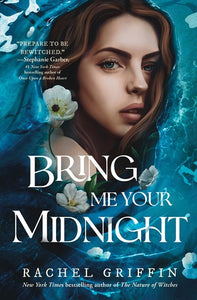 From the New York Times-bestselling author of The Nature of Witches and Wild is the Witch comes a lush, romantic, and unforgettable new fantasy full of sea magic, arranged marriages, and the choice between love and duty
Tana Fairchild's fate has been planned out for her since the day she was born: marry the governor's son and secure an unprecedented alliance between the witches and the mainlanders. But when Tana meets Wolfe, a member of the only remaining coven left practicing dark magic, she's stunned to learn of his existence. She's always thought the final coven disbanded ten years ago, completely eradicating the use of dark magic.
When unknown magic builds in Tana's body and she's unable to expel the magic on her own, she begs Wolfe for help. And as she practices Wolfe's dark magic, she's horrified to discover how naturally it comes to her. It makes her feel powerful. Alive.
Tana tries to rid herself of the memories of Wolfe and his magic, throwing herself into her courtship with Landon, the key to the alliance the witches have worked so hard for. With Tana's covenant ball approaching, their engagement will be officially announced.
But when Tana's family discovers her use of dark magic and her mother confides in her that the witches are losing control of the currents, and it's only a matter of time before the sea swallows a mainlander. When that happens, Tana's relationship with Landon could be the only thing that keeps the mainlanders from turning on the witches.
But Tana can't stop thinking about Wolfe. And as the tide grows fiercer, and the witches' relationship with the mainlanders more tenuous, Tana has to decide what's most important to her: love, or duty?