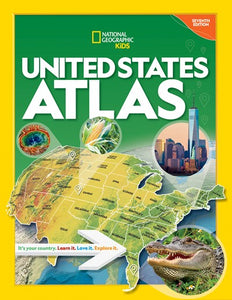 Discover and explore the U.S.A. in the fully updated seventh edition of this award-winning atlas, created especially for kids by the world-renowned National Geographic cartographers.
Celebrate America's grandeur and diversity with more than 75 National Geographic maps, more than 350 color images, 50-plus attention-grabbing graphics, and more. Each state has its own detailed, easy-to-read map plus a brief essay, facts at a glance about population, state capital, statehood date, and the state flag, bird, and flower, as well as highlights unique to the state.
Physical maps of each geographic region make it easy to see the mountains, rivers, lakes, deserts, and prairies that make up America's diverse landscape. Vibrant, full-color photo essays bring each region to life. 
Every statistic in every fact box, every statement in every essay, and every symbol on every map has been carefully researched to ensure that the
National Geographic Kids United States Atlas
provides the most accurate, up-to-date information available.
Count on National Geographic to bring you the very best U.S. atlas for school and family use. The perfect reference for kids to learn about all 50 states, U.S. territories, and Washington, D.C.!