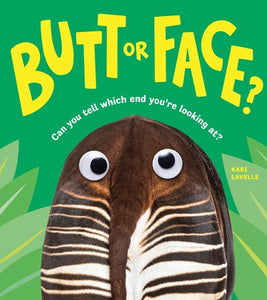 Using a cheeky guessing game format, Butt or Face? is a hilarious nonfiction picture book that teaches fascinating facts about animals! Are YOU ready to play?
Move over, Jeopardy, Family Feud, and The Price Is Right—this book will be your new favorite laugh-until-your-stomach-hurts family game! In Butt or Face, weird animals are introduced with a close-up photo. Kids must guess: are they seeing seeing…um...err… the bottom or the top?
Readers will learn about animals like Cuban Dwarf Frogs, whose backsides look like a pair of eyes, and the Mary River Turtle, which not only has a unique face, but even breathes through its butt! On every reveal page, kids can enjoy the animals' complete photos and fascinating scientific facts, which explain how the critters' camouflage and trickery help them to engage with their habitats.
Can YOU tell a butt from a face?