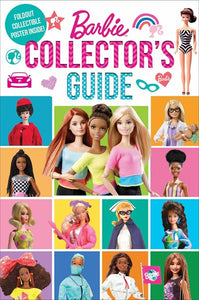 With Barbie, you can be anything! Discover all of the careers Barbie has had in this fun book with a double-sided, collectible poster!
Barbie has had many different careers over the years—from a surgeon to an astronaut—proving that anything is possible for you and Barbie! Packed with countless interesting Barbie-related facts and including a collectible, double-sided poster, this book is full of non-stop fun and imagination. Here are just a few of the amazing things you will learn:
The first Barbie was released on March 9, 1959.
Ken was the first friend Barbie ever had, and he was released in 1961.
The first Dreamhouse Barbie lived in was only one room, had paper furniture, and didn't have a roof!
Barbie has run for President of the United States six times since 1992.
And much more!
Barbie fans of all ages will love discovering—and rediscovering—Barbie dolls from the last 60 years!