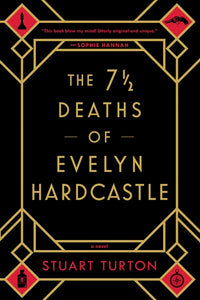 "Agatha Christie meets Groundhog Day . . . quite unlike anything I've ever read, and altogether triumphant."--A. J. Finn, #1 New York Times bestselling author of The Woman in the Window
Aiden Bishop knows the rules. Evelyn Hardcastle will die every day until he can identify her killer and break the cycle. But every time the day begins again, Aiden wakes up in the body of a different guest at Blackheath Manor. And some of his hosts are more helpful than others. With a locked room mystery that Agatha Christie would envy, Stuart Turton unfurls a breakneck novel of intrigue and suspense.
For fans of Claire North, and Kate Atkinson, The 71/2 Deaths of Evelyn Hardcastle is a breathlessly addictive mystery that follows one man's race against time to find a killer, with an astonishing time-turning twist that means nothing and no one are quite what they seem.
This inventive debut twists together a thriller of such unexpected creativity it will leave readers guessing until the very last page.
Costa First Novel Award 2018 Winner
One of Stylist Magazine's 20 Must-Read Books of 2018
One of Harper's Bazaar's 10 Must-Read Books of 2018
One of Guardian's Best Books of 2018
One of Buzzfeed's 17 Mystery Books You Won't Be Able to Put Down
One of BookRiot's 10 Mystery and Thriller Authors like Agatha Christie